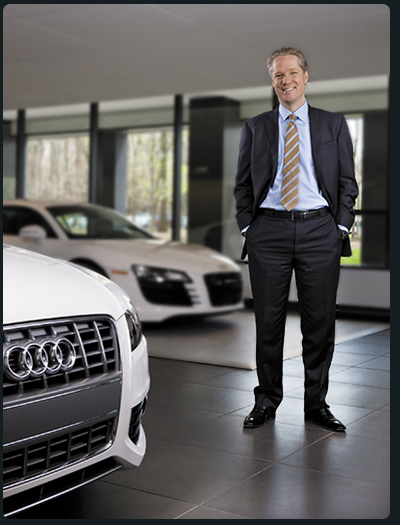 Top Audi executive Scott Keogh on that automaker's rising star

Keogh was named president of Audi of America in 2012.

Scott Keogh is the chief marketing officer for Audi of America, which is becoming increasingly important in the market for performance-oriented luxury vehicles in this country. Keogh oversees marketing communications, product planning and product launch efforts for Audi of America, which is doing well despite a major vehicle industry sales slide in 2009. He leads the company's marketing effort to further elevate the positioning of the Audi brand. Before joining Audi, Keogh worked in key positions at Mercedes-Benz USA. Dan Jedlicka interviewed him during a media preview in Napa, California, of 2010 Audi models.
Q. Some prestigious automakers are faltering badly. Why is Audi doing better than most?

A. World economic conditions also are adversely affecting Audi, but we're still more than holding our own. The market will bounce back. The main thing is that we have desirable products and continue to invest in new products and technologies -and pay close attention to marketing. We've introduced 14 new models in the last 24 months.

Q. Are you profitable?

A. Audi is one of few automakers that has been profitable this year. We're outselling BMW and Mercedes-Benz in Europe and have increased our market share in America, although the luxury market has fallen here. Residual values of our vehicles also have climbed in the United States.

Q. In Europe, some regard Audi as being as much of a luxury car as BMW or Mercedes. What about America?

A. Here, some regard Lexus as more of a luxury vehicle. But Americans are beginning to change their definition of luxury. Some no longer want to drive through their neighborhood looking like they bought an ultra-expensive car. Performance must be balanced with efficiency. It's become a mistake for luxury automakers to only focus on hyper-rich consumers.

Q. How would you generally characterize your customers?

A. Many are very technically savvy and use the Internet to help shop for cars.

Q. Are there any areas of the country that are particularly strong for Audi?

A. Our 270 dealers are pretty well spread out across the United States. We've historically been strong in cold-weather areas of the country, thanks partly to our advanced quattro all-wheel-drive system. So we're strong in Northeastern states such as New York and New Jersey. However, we're also doing well on the West Coast in the Los Angeles area, but also in Seattle and Portland on that coast. And in Miami because people move from North to South.

Q. What about Chicago with its rotten winter weather?

A. Chicago is our fourth largest U.S. market.

Q. I'd guess that the addition of a revised 525-horsepower V-10 engine to your hand-built R8 sports car, which was previously only sold with a V-8, should enhance that car's attractiveness and enhance Audi's overall image.

A. The R8 is a low-volume model with very advanced design and construction, aimed at genuine sports car fans. Most order it with a manual transmission. But Audi also sells high fuel economy "clean" diesel-engine models in America and has replaced the V-8 in the sporty S4 version of its redone A4 sedan with a more economical, supercharged V-6.