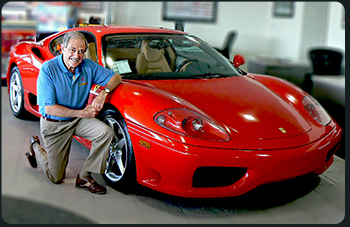 Veteran Ferrari Dealer John Weinberger on Sexy Ferrari Market

John Weinberger is one of only 33 authorized Ferrari dealers in America. He ran an import car repair shop before building his current large Chicago-area foreign car dealer network. Among autos he initially sold were the MG, Jaguar, Triumph, Austin-Healey and Lotus sports cars, and also Rolls-Royces. He then concentrated on Japanese autos. Born in 1932, he became the Chicago area's first Ferrari dealer--Continental AutoSports--in 1975 in Chicago's suburban Hinsdale, where he also sells Maseratis. He successfully raced sports cars in SCCA competition until 1969 and still competes in vintage race cars, which have included a Lotus 23B. He also collects rare classic sports cars. Dan Jedlicka interviewed Weinberger at his Ferrari/Maserati dealership in June about the lure of Ferraris and various aspects of the Ferrari market.

Q. Why is a Ferrari considered the ultimate sports car, instead of, say, a Lamborghini? Everyone in the world recognizes the Ferrari name.

A. Much has to do with Ferrari's racing heritage since its inception in the late 1940s. It has a fantastic racing history with both sports cars and Grand Prix cars. Lamborghini, which began in the 1960s, never raced. Porsche was never successful in Grand Prix racing. Also, Italy makes products with great style and romance, such as cars, wines and clothes.Germany makes more somber products.

Q. What are the most popular Ferrari markets?

A. Los Angeles, Miami and the greater New York area. There's only one other authorized Chicago area Ferrari dealer--Rick Mancuso. A Ferrari dealer was unique in the Chicago area when I opened my dealership. But Ferrari only sent 500 to 700 cars to America annually then and now sends approximately 1,500-2,000 cars. ( A total of 1,602 Ferraris were sold in the U.S. last year.)

Q. Is Ferrari affected in America by the economic slump?

A. It hasn't been a good year so far. On the other hand, there are so many orders for the hot new Ferrari California model that customers may have to wait two years to get one. Also, people know the Ferrari F430 is near the end of production, so no new orders are being taken for it. Ferrari is being secretive about its successor, which will be desirable. . It used to be that a Ferrari only a few years old could be sold for virtually its new-car price. That's no longer the case in today's poorer economic climate.

Q. I hear a person must be patient after ordering a new Ferrari because of a long wait for one.

A. It usually takes a year after a customer orders a new Ferrari to take delivery. Buyers often call and ask how much longer they must wait.

Q. Do most Ferrari owners keep their cars a long time?

A. They usually want the latest model after only one to two years. Few keep their car for a long time. Ferraris aren't driven in the Midwest in the winter, with its snow and sloppy salted roads. The Chicago area thus is a great one for buyers of pre-driven Ferraris, which haven't been used much and generally are driven only in really nice weather.

Q. Do most of your Ferrari customers finance, lease or buy a Ferrari outright for cash?

A. Most buy a Ferrari outright.

Q. How many buy the car to show off?

A. I'm sure there's a good amount of ego involved when someone buys a Ferrari. But those who get an exotic sports car to show off usually opt for a Lamborghini. That's a wonderful car, but it's far more "showy" than a Ferrari when, say, it's pulled up to a restaurant.

Q. Do most Ferrari buyers order one with a manual transmission with a clutch and gearbox or with an automatic transmission that has a fully automatic mode but that also can be shifted manually. It seems odd to me that anyone would want such a pue sports car with an automatic.

A. About 90 percent get the automatic with paddle shifters that allow manual shifting. Such shifters are in Ferrari Grand Prix cars, so that's what most buyers of the street models want. The automatic was jerky when shifted manually with paddles several years ago, but it now shifts smoothly. A Ferrari buyer may have to wait quite awhile for a model with a conventional manual transmission--until Ferrari has enough orders to make a batch of manual-transmission cars.

Q. Has availability of a Ferrari automatic made the car more popular with women because it can be used in fully automatic mode?

A. Most Ferrari buyers are men. Actually, there were more female buyers when Ferraris just came with a manual transmission, gear shifter and clutch. They tended to be aggressive drivers. My dealership's women customers prefer a Maserati.

Q. What do most of your customers do for a living?

A. Many are physicians with a medical specialty. About ten years ago, a lot were prosperous commodity brokers, but I don't see many of them these days. Another large customer group are entrepreneurs who have sold their businesses and seemingly have all the money in the world. They read about Ferraris when owning their business and now feel it's time to buy their "toy."

Q. Ferrari owners rarely own just one car. What else do they drive?

A. Mostly a Mercedes-Benz or BMW.

Q. Are the majority of Ferraris painted red--the Italian racing color?

A. About 80 percent--the two-seaters--are red. Silver is the next most popular color. Blues and grays are popular for larger models such as the four-seat 612 Scaglietti model.

Q. It once was said that you needed a personal mechanic to keep a Ferrari running. How reliable have Ferraris become?

A. Ferrari couldn't survive in today's highly competitive market unless it made reliable cars. Ferraris began becoming very reliable when the F355 was introduced in 1994. It was a big improvement over the its predecessor, the 348.

Q. Are 1950s and 1960s Ferraris still a hot collector's item?

A. The two-seat models are a definite collector's item and are worth a lot. They were limited-production cars with Ferrari's famous V-12 engine. People who own them mainly are collector's who know what they've got and are holding on to them. Owners don't need to sell them. They don't need the money.

Q. Does it look as if any current-model Ferraris will become a collector's item?

A. I'd suspect that some limited-volume "special edition" production models will attain that status in perhaps five to eight years.