John F. Krafcik, President and Chief Executive Officer of Hyundai Motor America
Tells why Hyundai is so hot and speaks of its future plans.
(Krafcik left Hyundai in late 2013. He has joined the TrueCar Inc. board of directors. TrueCar.com is a large car-buying site.)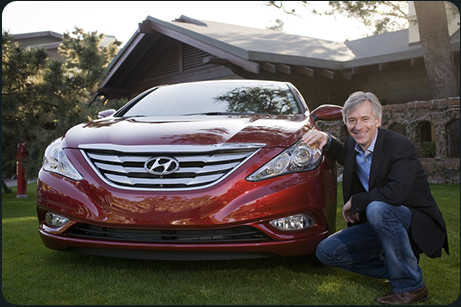 John F. Krafcik is President and Chief Executive Officer of Hyundai Motor America, which keeps introducing popular, highly rated vehicles. While 2009 was a lousy year for vehicle sales in America, Hyundai's sales here totaled 435,064 cars and trucks—up from 401,742 in 2008. Hyundai's new Genesis luxury sedan was an instant hit in 2009, and the South Korean outfit's redesigned Tucson crossover and Sonata sedan have gotten solid reviews after arriving early in 2010.

Krafcik is responsible for implementation of strategic direction and management of Hyundai Motor America operations. He joined Hyundai from Ford in 2004 and served as vice president of product development and strategic planning. He holds a mechanical engineering degree from Stanford University and a Master of Science degree in Management from the MIT Sloan School of Management. He began his auto industry career at the General Motors/Toyota operation in California, later becoming an industry consultant on lean production. Dan Jedlicka interviewed Krafcik during a media preview of Hyundai's new Sonata during February in La Jolla, California.

Q. Has the poor economy, with high joblessness and such, led more people to check out Hyundai's attractively priced vehicles?

A. People think differently in rough times and are looking more closely at our brand. We've had ten straight years of steady market share growth in America, but still don't feel our brand has caught up with its capabilities. The Sonata starts at only $19,195, with the top model at $25,295.

Q. Can you give an example of Hyundai not keeping up with its capabilities?


Q. For one thing, Hyundai is the industry's fuel economy leader, at 30.1 miles per gallon (followed by Honda at 29.7 mpg and Volkswagen at 29.6).The new Sonata has fully 198 horsepower and is a roomy mid-size car, but delivers an estimated 35 miles per gallon on the highway. And it's not a hybrid.

Q. Is a hybrid in your future? Will you build alternative-fuel vehicles?

A. We will offer a hybrid. Such a vehicle is a necessary technical calling card in today's auto world. But we don't believe in alternative fuel vehicles. For instance, ethanol-fuel vehicles help corn farmers because ethanol is derived from corn, but such vehicles aren't a good deal for Hyundai owners. Gasoline delivers significantly better fuel economy than ethanol.

Q. The new Sonata only offers a 2.4-liter four-cylinder engine for all Sonata trim levels. Why doesn't the car also offer a V-6, as did the 2009 Sonata?

A. The four-cylinder is sophisticated, with such items as dual overhead camshafts, direct fuel injection, 16 valves and variable valve timing. It has plenty of power for a mid-size car, which we've made lighter. A V-6 just isn't necessary. For one thing, it would add weight to the front, which would adversely affect handling.

Q. I see that Hyundai s isn't secretive about upcoming products. Don't you guys believe in surprises?

A. We provide information about advanced future vehicles because we want to built trust among consumers that such models are coming. It helps convince people that it's OK to buy a Hyundai now because it will continue to offer good products.. For instance, we have a new luxury car coming next year—the Equus—and also new Elantra and Accent autos. There also will be a new Santa Fe SUV and a new sporty coupe.

Q. Hyundai has traveled a long way since it was known for marginal, low-priced cars in the 1990s. Did introduction of your 100,000-mile/10-year powertrain warranty help draw many new customers? Does it still attract them to your showrooms?

A. It did, and still does—especially in these hard economic times. It's the best warranty in the industry. Other automakers introduced long warranties, then discontinued them, something we've never done. At least half of our customers say the warranty was a factor in their purchase decision. Many customers now actually pay more attention to the 5-year/60,000-mile new vehicle part of the overall warranty, which also offers 7 years of rust protection and 5 years of 24-hour roadside assistance.

Q. Does Hyundai plan to take advantage of Toyota's extensive current recalls for alleged safety problems with generous financial deals and such?

A. We don't have to take advantage of Toyota's problems. Recalls can happen to any automaker. Hyundai will compete strictly with its products.

Q. Right off the bat, Lexus stole sales from Mercedes-Benz autos with its then-new LS400 sedan in 1990 because the LS400 was much less expensive than a comparable Mercedes and considered by some to be as good, if not better. Did the same thing happen with Hyundai and its rivals such as Audi, BMW, and Mercedes when you introduced your new Genesis luxury sedan for 2009?

A. That Lexus-Mercedes development is a good comparison. The Genesis--our first rear-drive car with our first V-8-- was huge for us. It came out at just the right time with the poor economy, and many felt it compared favorably with costlier rivals.

Q. Your cars are looking racier. The new Tucson is quite sleek, especially for a crossover vehicle, and the new Sonata looks like it might have been designed in Italy. Does Hyundai use designers from other countries, such as Italy, as some of your rivals have done?

A. Absolutely not. We have in-house design operations because we want our models to have a very distinctive Hyundai look—just as now-classic American cars had distinctive appearances. For instance, we say the Sonata has "Fluidic Sculpture design." It was conceived at our California Design Center studios. It's built at a very modern assembly plant in Montgomery, Alabama.

Q. Hyundai has caught up in most respects on the technology front with competitors. As vehicles become even more complex, does it plan to keep up with rivals?

A. We plan to stay ahead of the competition. Cars, in fact, are becoming more complicated. After developing a new technical feature, the first thing our engineers do is sit down and make a list of any ways such a feature could prove troublesome.

Q. Some don't know that Hyundai controls Kia, also a South Korean automaker. Does Hyundai consider Kia a rival?

A. It's a rival. Hyundai and Kia are both very independent organizations in the United States.