Derrick Kuzak
Ford Group Vice President of Global Product Development – Moving To Upscale Small Cars
Kuzak retired from Ford in April after 33 years with the automaker, which called him "absolutely integral to the comeback at Ford."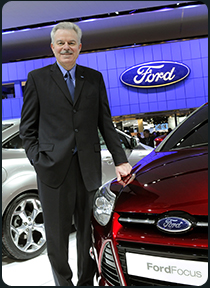 Derrick Kuzak is Ford Motor Co.'s Ford Group Vice President of Global Product Development. He leads a team responsible for bringing to world markets more Ford vehicles people want with greater efficiency. For instance, the new Ford Fiesta is an example of a single vehicle line being developed for sale in a diverse array of global markets. Kuzak began his global role in December, 2006. Before that, he joined Ford's American Leadership Team in August, 2005, when he was named vice president, North American Engineering for the automaker. Kuzak also has served as Vice President of Product Development for Ford of Europe. Dan Jedlicka interviewed Kuzak during Ford's media preview of the new Fiesta in San Francisco.

Q. There's always been considerable differences between very attractive Ford models sold in Europe and duller ones offered in America. Is there much of a difference between a European Fiesta and an American Fiesta?

A. There's very little difference, which is one reason the new Fiesta is so much fun to drive. Europe's roads are more demanding and call for cars that are nimbler and thus more enjoyable to drive.

Q. Most Americans have associated small cars with cheap cars. But the Fiesta is billed as a small-but-upscale auto that Ford calls a "game-changer."

A. The only way to convince people that small, upscale cars are desirable is to produce them with features customers want, such as quiet interiors. We expect the small car market to grow considerably in America, and intend to change expectations of people as to what they can get in a small car.

Q. What Fiesta features do you hope will change minds?

A. Besides a design that imparts a sense of movement even while motionless and a quiet interior, the Fiesta, for instance, has standard electronic stability control and can be had with heated, leather-covered seats, push-button engine starting, an innovative six-speed automatic transmission and advanced technology items such as voice-activated communications system. Moreover, striking paint such as the Fiesta's "Tuxedo Black" metallic never was found on small cars.

Q. The Fiesta still must have good performance and "small car" fuel economy.

A. This car has an advanced four-cylinder engine that delivers lively acceleration and an estimated 40 mpg on highways and 30 mpg in the city.

Q. A four-cylinder? That makes me wonder-- Ford has been associated with the V-8 engine since it became the first automaker to offer a V-8 for the masses in 1932. But some say much stricter upcoming federal emissions standards will make the V-8 obsolete, replaced by six- and four-cylinder cars. I can't imagine a Ford Mustang without a potent V-8. What's the future of that engine with Ford?

A. If customers want a Ford Mustang V-8 in the future, we'll provide it. Technology will assure there will be a variety of power systems for cars, such as as plug-in gasoline-electric hybrids. We'll lower the cost of such vehicles and eliminate customer anxiety that they won't have sufficient driving range. We'll also continue to improve efficiency of gasoline engines, including V-8s, with direct fuel injection and such. Our twin-turbocharged EcoBoost gasoline V-6 generates 355-365 horsepower and great torque while providing V-8 performance in Ford and Lincoln models. Our new gasoline Mustang V-6 has 305 horsepower but still delivers an estimated 30 mpg on highways. Our mid-size Ford Fusion and Mercury Milan hybrids provide an estimated 41 mpg on highways. But none of that means the V-8 will be eliminated.

Q. Is there any chance that electric cars will replace gasoline-engine autos in large numbers in a few years?

A. No, because the infrastructure just isn't there to support a big electric vehicle population, which would call for many charging stations. The same holds true for a sudden switch to fuel-cell vehicles. Note that automakers have invested enormous sums to produce internal combustion gasoline engines and can't change things overnight. Such engines are becoming far more efficient and have a well-established infrastructure with such things as gas stations to support them.

Q. Many politicians seem to have little knowledge of the auto industry, but what if they demand a tremendous transition to alternative powertrains?

A. We're more than willing to work things out with politicians.

Q. Half of European cars have diesel engines. They're considerably more fuel-stingy than gasoline engines found in most U.S. cars, and Volkswagen diesel cars are popular here. Why don't we have more diesel autos in America?

A. Modern diesels are a big improvement over the old smelly, noisy ones. But diesel engines cost more than gasoline engines, and diesel fuel is more expensive in this country. American emissions standards also are more stringent for diesels than those in Europe. And many Americans aren't familiar yet with modern diesels.