1965-1970 Shelby Mustang


A Ford Mustang is just a Ford Mustang—unless it's a Shelby Mustang from legendary racer/car builder Carroll Shelby.

Shelby is perhaps the closest man the U.S. high performance car world has to Italy's Enzo Ferrari, who Shelby beat for the world sports car championship in 1965, using modified Ford V-8s in his Cobra sports cars.

Ford Mustangs modified by Shelby's operation are called Shelby Mustangs. All were built in the 1960s, although a few unsold 1969 models were reserialed as 1970 models. The most revered Shelby Mustangs were built from 1965 to 1966, although later models also are highly prized.

Production of Shelby Mustangs was moved from Shelby facilities in the Los Angeles area to Michigan at the end of the 1967 model year. By then, Shelby was beginning to losing interest in his car because of Ford Motor's political meddling and its introduction of its own high-performance Mustangs that competed with Shelby Mustangs.

Still, all Shelby Mustangs have become more treasured with each passing year. Shelby seemed to have waved a magic wand over all of them.

Just consider startling Shelby Mustang prices. Street versions are valued, if in top shape, from $269,350 for a 1965 GT-350 fastback model, which originally cost $4,547, to $94,300 for a 1969-70 GT-350 fastback—although a 1969-70 GT-500 convertible is worth $194,975 if in superb shape.

A regular 1965 Mustang V-8 was $2,000 cheaper, but the Shelby version was only slightly more expensive than a Corvette, and it beat Corvettes on tracks. It won its class in the Sports Car Club of America's 1965 national road race championship—and won it again in 1966 and 1967.

The 1965-66 Shelby Mustang was as close to a street-legal race car offered by an American automaker and thus wasn't comfortable to drive, with a harsh ride and stiff controls.

Standard Mustangs fastbacks were fitted at Shelby's Venice, Calif., facility with a high-performance suspension, fast-ratio steering, heavy duty components and brake and engine modifications that resulted in a conservatively rated 306 horsepower, versus the factory's 271. Bodies got modifications that included a lighter fiberglass hood with a functional scoop and side scoops,along with a special paint treatment.

Inside were racing seat belts, a wood-rim wheel, full instrumentation—and no back seat to qualify the GT-350 as a "sports car" under SCCA rules. After all, the widely raced Porsche 911 had a back seat, although a tiny one.

The 1966 Shelby Mustang looked nearly identical to the 1965 model, although Plexiglas rear quarter windows replaced the previously used vents. An optional fold-down rear seat was added and color choices were expanded, all with white stripes. Also offered was an optional Paxton supercharger said to boost horsepower beyond 400.

Values of the few versions built for racing are even more sensational. For instance, the 1965 lighter, more powerful competition R code GT-350 Shelby Mustang is valued at $750,000, according to the Cars of Particular Interest Collectible Vehicle Value Guide..

Only 562 Shelby Mustangs were built in 1965. A total of 2,380 were made in 1966 because the Hertz rental car company ordered 936 of them for its "sports car club" members, with most having Hertz's gold-on-black color scheme. Hertz soon found some were rented by racers on weekends to compete on tracks, so it ordered no Shelby Mustangs for 1967. (A 1966 Shelby Mustang GT-350H (for "Hertz) is valued at $182,775.

Only 10,825 Shelby-modified Mustangs were made from 1967-69, when Ford sold hundreds of thousands of regular Mustangs.

Shelby was a top sports car racer in the 1960s, even winning the famous 1959 24-hour race at LeMans, France for Aston Martin. But a bad heart condition caused 1960 to be his last racing season. He then developed the Ford-powered Cobra sports cars that beat Ferrari for the sports car championship. He also was involved with the Ford GT-40 race cars that won the Le Mans race in the mid-1960s.

How did the Shelby Mustang come about? Ford division boss Lee Iacocca wanted the Mustang to have more of a high-performance image and knew about Shelby's world champion Ford-powered Cobra sports cars. He asked if Shelby could work his magic on the standard Mustang, and Shelby didn't have to be asked twice.

The problem was that the 1965-66 Shelby GT-350 street Mustangs were thinly disguised race cars uncomfortable on roads for anyone but hard core car buffs or racers, even with an automatic transmission (Most Hertz models had automatics.)

The regular 1967 Ford Mustang was larger and heavier. Weight was an enemy of high performance, but Shelby had to work with the new fastback model.

Ford sold the 1967 model with a 289-cubic-inch V-8 and an optional 390-cubic-inch V-8. Shelby one-upped the factory Mustang by giving his 1967 Shelby Mustang a 428-cubic-inch Ford V-8 and called it the GT-500. The V-8 had an advertised 355 horsepower so insurance companies wouldn't fret, but it really generated about 400 horsepower.

Shelby retained his 289-cubic-inch V-8 for the 350-GT, although noise regulations led to elimination of the original power-enhancing steel-tube exhaust headers. Horsepower still was advertised at 306, but actually was 290.

The 1967 Shelby Mustang looked fantastic. It had a custom fiberglass front end with two extra headlights in the center of the grille. Scoops were everywhere—on the hood, lower bodysides and even behind the windows. All scoops were functional because Shelby was basically still a racer. A functional air spoiler was put on a special trunk lid, and the rear end had wide taillight clusters from the sporty new Mercury Cougar.

The chassis was modified for sharper handling. And the interior had a racing-style steering wheel, extra gauges and a roll bar with built-in inertia-reel shoulder harnesses, such as those used in race cars.

Ford mandated power steering and brakes for the new Shelby Mustang—items not on the 1965-66 Shelby Mustangs because racers had no use for power accessories.

No wonder a 1967 Shelby GT-350 is valued at $133,500 by the CPI price guide, with a GT-500 worth $181,250. Those models originally cost $3,9995 and $4,195, respectively.

The 1967 Shelby Mustang inherently looked sharp, partly because the new production Mustang had a longer hood and full-fastback styling. But performance of the GT-350 suffered because the new production Mustang was heavier. The GT-500 was fast, but car magazines expected it to be faster than its 0-60 mph time of 6.5 seconds. Still, that was pretty quick.

A total of 3,225 of the 1967 Shelby Mustangs were sold, with most being GT-500 models. After all, this was the late 1960s, when big-engine muscle cars were really hot.
The 1967 Shelby Mustang sold well largely because the car had a combination of performance and luxury, not one that stressed performance above everything.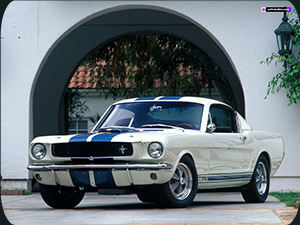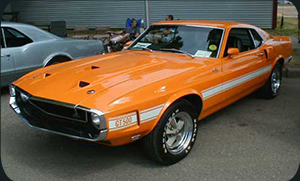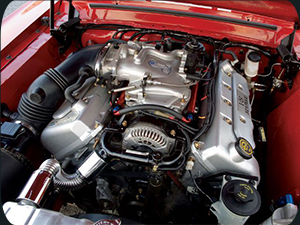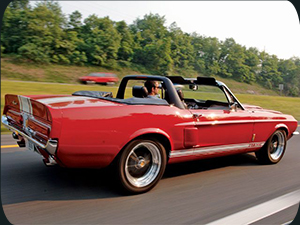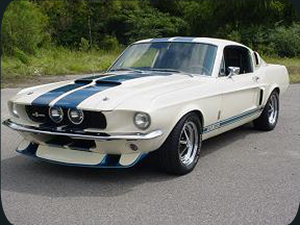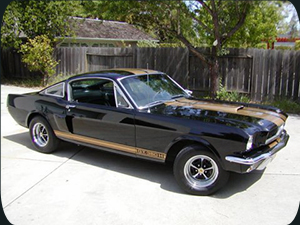 But Shelby was becoming increasingly unhappy with Ford's internal politics and involvement with his modified Mustangs. An individualist who liked to be in charge, he once told me, "Only the faces of executive change, the suits and politics stay the same."

Then Ford moved Shelby Mustang production to Southfield, Michigan in 1968. The A.O. Smith Co. contracted to carry out Shelby conversions of Mustangs. Ford was doing most of the Shelby product planning, and the cars now were officially called Shelby Cobras because Carroll Shelbys famous Cobra sports cars no longer were being built. To most, though, the car remained the "Shelby Mustang," although the 1968 interior was less special. New options included air conditioning.

The GT-350 and GT-500 continued for 1968, with a convertible model added. Those cars had twin wide hood air intakes, new hood louvers, a large grille with square running lights, sequential rear turn signals and small trim changes.

A 302-cubic-inch V-8 with 250 horsepower, or 350 with a supercharger, replaced the 289 V-8. The 428 V-8 now had an advertised 360 horsepower, although some Shelbys came with a 390-cubic-inch V-8 with 335 horsepower because an engine strike caused a shortage of 428s.

A special GT-500K (for "King of the Road") had Ford's 428-cubic-inch Cobra Jet V-8, which produced 400 horsepower. That Shelby is valued at $191,000 as a fastback and at $228,500 as a convertible.

Shelby production again rose in 1968 to 4,450 units as the car became more mainstream. This would be the Shelby Cobra's best sales year. But car buff magazines said the car had become too big, plush and soft. There was no attempt to race it.

The regular Mustang got a zoomier body for 1969. So did the Shelby fastback and convertible. It again had a special front end and hood, besides many scoops and scallops. It had a longer hood, reshaped front fenders and a new nose, besides a clipped rear end with a spoiler and Cougar sequential turn signals.

But the Shelby Mustang had become even more like production Mustangs, and Carroll Shelby finally ended his involvement with the car. Production ended in 1969 after 601 leftover cars were reserialized as 1970 models.

Shelby left the auto business to become successful with other enterprises. He returned to it years later at the request of Lee Iacoca, who now headed Chrysler Corp. and wanted high-performance versions of that automaker's cars.

Today, Shelby expresses amazement at prices paid for Shelby Mustangs.

"Most of them were shot to hell in the 1960s," he said with a laugh.