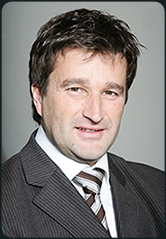 Christophe Georges - On luxury car sales declines

Christophe Georges is president and chief operating officer of Bentley Motors of the Americas, which includes the U.S. arm of England's revered Bentley auto operation. He was interviewed by Dan Jedlicka during a media preview of the new Bentley Continental GTC Speed convertible in March in California's Napa Valley area.

Bentley's American sales, affected by this country's poor economy, fell last year to 2,693 cars from 3,990 sold here in 2007. Results this year through early spring also were lower as the economy worsened and virtually all automakers experienced steep sales declines. Like other auto executives, Georges is hoping for better times.

Q. It's been rough for producers of all types of cars. When do you see things improving?

A. The economic downtown is global in nature, and nobody is escaping it. Everyone hopes for better times, but I don't think anyone really knows when the picture will brighten. I wouldn't predict when the economy will rebound significantly.

Q. Will your new GTC Speed convertible help sales?

A. Yes, especially in America. It's a particularly good market for convertibles.

Q. Are you saying that more Americans than, say, Europeans like convertibles?

A. That's correct. Every country is different in terms of buyer tastes, but Americans especially love convertibles.

Q. One assumes that most Bentley buyers are very affluent because prices for your cars start at approximately $185,000. But are wealthy Americans postponing buying a Bentley because of the lousy U.S. economy?

A. Even wealthy people are holding back in this country--and also on a worldwide basis.

Q. What makes your convertible significantly different, outside of the fact that it's a Bentley?

A. For one thing, it's got high refinement--and a decent back seat.We didn't want a convertible with a design that compromised rear-seat room. The soft top has multi-layer construction and an especially good fabric is used for the headliner (inside roof layer). This allows a quiet, tight interior with the top up. There are no visible latches or mechanical mechanisms seen with the top up or down. It lowers and raises quickly and can be put up or down when the car is moving at lower speeds.

Q. Some convertibles are OK at first, but develop rattles and such after being driven awhile. What about the GTC Speed convertible in that regard?

A. It's designed and built to stay as good as new for a very long time. Considering engineering, craftsmanship and sporty driving characteristics, no other automaker builds a convertible like the GTC Speed.

Q. Not even Rolls-Royce?

A. Bentleys are sportier than Rolls-Royces. Approximately 80 percent of Bentley owners drive their car. I don't think that figure is as high for Rolls-Royce owners. And Bentley owners apparently like driving our cars because some 65 percent of new Bentley buyers have owned a Bentley.

Q. Bentleys are large, heavy and powerful. They consequently aren't known for being particularly easy with fuel. What's Bentley doing about that?

A. We're making a significant investment to enable our cars to run on biofuel while maintaining the character and performance level expected by our customers.

Q. Bentley is controlled by Germany's Volkswagen, but still is considered a high-class British car. How do your customers feel about Volkswagen's ownership?

A. They like the fact that Bentleys continue to be built in England.

Q. One might guess that most Bentley owners must be fairly old to have enough money to buy a Bentley.

A. We see a growing number of younger Americans buying Bentleys. Some are in their early 40s.

Q. California is a big market for Bentley. What about other areas of the country?

A. Bentleys can be comfortably driven daily even in northern snow-belt areas, partly because they're available with all-wheel drive. Chicago, for instance, is a pretty good market for us. However, California and Florida are among our strongest U.S. markets. Some people from, say, the New York area keep their Bentley in Florida because they have winter homes in in Florida.

Q. How many dealers does Bentley have in the Americas?

A. There are 40 in the United States. There also are four in Canada, one in Mexico and two in the Caribbean.

Q. What's your favorite Bentley color?

A. I prefer lighter colors because they bring out the car's exquisite lines better. However, we've brought a bright red Bentley GTC Speed convertible to the preview here, and it looks especially sporty.