Roger McCormack
Buick Product Marketing Director Roger McCormack on losing Buick's "grandfather" image and a future that includes its European-style, hot rod Regal GS.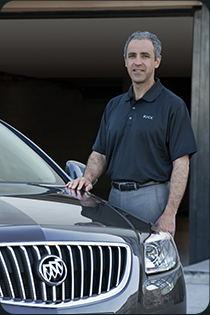 Roger McCormack was named to his position in April 2010 after being Cadillac's marketing director since 2008. He's responsible for brand marketing strategy and product planning for all Buicks. He will oversee expansion of the Buick line over the next few years, with the addition of a premium compact sedan and compact crossover. McCormack was interviewed by Dan Jedlicka during a consumer preview of the 2012 Regal GS in Miami, Florida.

Q. Many Americans are surprised to learn that Buick sells more cars in China than in the United States. Why China?

A. A Chinese leader liked Buicks, and the car subsequently caught on as a great American brand in that country. The interior of the fairly new Buick LaCrosse—very popular in America—was done by a U.S./Chinese team. However, Buick sales also are up in the United States. Through October this year, sales have climbed 55.4 percent.

Q. Buick long has been known for distinctive cars. They include the dazzling factory customized 1953 Skylark, fast 1954 Century and 1986-87 Grand National coupe—not to mention 1960s muscle cars and the sporty two-seat 1980s-90s Buick Reatta. Overall, though, hasn't Buick had a reputation for being an older person's—or "grandfather"—car—not the greatest image for long-term sales?

A. We're changing that image, with the average age of buyers dropping significantly. We're after younger buyers, but will offer a variety of models for various age groups.

Q. Is one younger person's car the 2012 Regal GS, which goes on sale in mid-2011? It's based on your new European-style 2011 Regal, which is made, for the time being, in Germany.

A. The Regal GS, shown here in Miami during a consumer clinic at a young person's nightclub, has a 255-horsepower direct-injection four-cylinder with 295 pound-feet of torque. It initially will be sold only with a six-speed manual transmission. A six-speed automatic with manual shift control comes later.

Q. But only four cylinders?

A. With today's technology, large Buick engines no longer are needed for strong performance. For instance, the Regal GS will do 0-60 mph in under 7 seconds. It has the pep of a V-6, with the fuel economy of a four-cylinder. It gets an estimated 29 mpg on highways and 19 in the city with the manual transmission.

Q. How do Buick dealers feel about selling four-cylinder cars after decades of selling models with more cylinders?

A. They need additional education. Our dealers aren't used to selling four-cylinder cars after selling lots of V-8 models, although Buick also has sold many V-6 cars. There doesn't seem to be much resistance among younger buyers to four-cylinder Buicks.

Q. Other unusual Regal GS features?

A. It has an all-independent suspension, extra-strong brakes and 19- or 20-inch wheels and tires. An Interactive Drive Control system lets a driver select among standard, sport and GS modes that change the suspension settings and steering sensitivity.

Q. How will it cosmetically stand out from a standard Regal?

A. It has large front air intakes, aerodynamic side rocker panels, integrated rear spoiler and a pair of satin-metallic trapezoidal exhaust outlets. Inside is a racing inspired sport steering wheel and front sport seats. The black interior is accented with satin-finish elements on the instrument panel, wheel and console.

Q. What has been your "breakthrough" vehicle—the one that started Buick's transformation in the past few years?

A. It was the Enclave crossover/sport-utility. It arrived for 2008 and is still doing well. The Enclave was followed by the 2010 LaCrosse sedan and now the new Regal sedan.

Q. Is the LaCrosse attracting foreign car owners?

A. Some are trading in, for instance, Lexus and Acura models. The LaCrosse has luxury car craftsmanship and such, but is priced lower than rivals.

Q. Are there other new models in Buick's future?

A. We'll add a premium compact sedan and a premium crossover. Buick will have a small sedan at one end and the Enclave at the other, with models in between. For the past few years, we didn't have such a "stepping stone" lineup.