Richard LoFaso
Richard LoFaso, Toyota Motor Sales U.S.A. corporate marketing manager for Truck Operations, hopes to increase sales with Toyota's redesigned Tundra full-size pickup.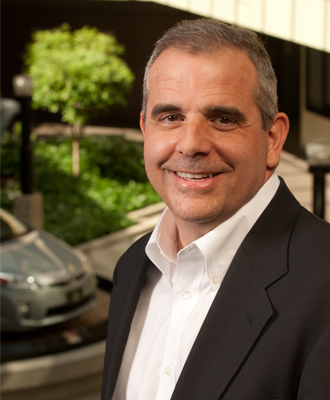 Richard LoFaso is corporate marketing manager for Truck Operations at Toyota Motor Sales U.S.A., Inc. He's responsible for product marketing strategy and tactical plans for Toyota light trucks, such as pickups, which are in a booming market. LoFaso most recently was corporate marketing manager for Toyota passenger cars and before that was general manager for the Lexus western area. Previously, he was national sales and production planning manager, besides national market planning and facilities manager, for the Toyota division. LoFaso began at Toyota as a corporate intern in 1981. He earned a bachelor of science degree in automotive management and service from Western Michigan University, where he graduated cum laude. Dan Jedlicka interviewed LoFaso at the media introduction of the redesigned 2014 Toyota Tundra full-size pickup truck near Knoxville, Tenn.

Q. Full-size pickups from Ford and General Motors long have dominated that pickup truck market, while the Chrysler Group's Ram pickup is coming on strong. Tundra sales are far behind those trucks.

A. The Tundra has a solid reputation, and we have no ambitions to sell in the 400,000-500,000 range, like Ford or GM. With full production of the redesigned 2014 Tundra, we expect to sell approximately 137,000 units next year and build business over time.

Q. The last redone Tundra, introduced for 2007, didn't fare well. Why is that?

A. It was a good all-new truck introduced at the wrong time—when the recession hit and the pickup market collapsed. Now we have a great new truck with the 2014 Tundra and timing for its introduction is good because there's significant demand for large pickups again.

Q. Most American truck buyers have been very loyal to an American brand. Will that affect Tundra sales?

A. We have the opportunity with the new Tundra to do a better job of selling it as an "All-American" truck. It was engineered and styled in America, with its engines and transmissions built here. It's assembled at Toyota Motor Manufacturing in Texas. Toyota has tremendous brand loyalty, so the Tundra should attract Toyota fans, but also others who have no brand interest and just want a capable upscale pickup.

Q. How will you make pickup truck buyers aware of all that?

A. We'll have a fully integrated campaign to tell the Tundra's story. Some of its development resulted from listening to comments of American truck buyers in consumer clinics. We filtered significant things they said. Pretty soon, we found many having the same suggestions. I find consumer groups to be an invaluable tool.

Q. What came out of some of the clinics?

A. Some consumers said they wanted a back seat that entirely flipped up, instead of just fold-down seatbacks. The flip-up seat allows larger, bulkier cargo to fit inside the cab. We heard that some pickup owners had to replace the entire front lower bumpers of their truck or the rear bumper because a bumper got damaged. That's expensive. So we came up with a three-piece bumper to lower replacement costs. You can replace just the damaged part of the bumper.

Q. More women are driving pickup trucks.What do women in these consumer groups say they especially want?

A. They want a nicer interior. They say they spend most of their time looking at a pickup's interior, not the outside styling.

Q. Do you have a full range of Tundras, like fulll-size pickup truck leaders Ford and GM?

A. There's a variety of Tundra models. There are five grades, three cab styles and three engines, besides two automatic transmissions.

Q. Does the new Tundra have higher prices?

A. The Tundra's list prices start at $25,920 and end at $47,320. Based on comparisons between the new grade strategy for 2014 models and 2013 models with comparable equipment levels, the MSRP's reflect an overall average decrease of $263.

Q. Which cab style is the most popular, or at least becoming the most popular?

A. The Crew Cab is very popular because it can he had with four doors, and many pickup owners use it as a car. For instance, while all new Tundras have redesigned interiors, the higher-line Platinum grade for the next generation of "personal use" truckers has perforated, diamond pleated premium leather seats, door and instrument panel inserts and chrome seat and console accent badging for an upscale, yet urban, feel. The Platinum also has a premium audio system and heated and ventilated front seats. You can pull up to the country club with it. There's more demand for premium pickups.

Q. Journalists have been testing the new Tundra at its media preview with the truck's 5.7-liter, 381-horsepower V-8. While it's sophisticated, isn't the trend toward smaller engines for better economy and such?

A. We found that smaller engines in a large pickup must work harder, with more revs, and thus don't meet expectations. The Tundra's 5.7-liter V-8 is the most popular engine with owners. Fuel efficiency with 4x2 models is (an estimated) 13 mpg in the city and 18 on highways, with the 4x4 getting 13 and 17. Only 87-octane is required, and that engine is E85 capable.

Q. Where's the direct fuel injection system for Tundra engines? That system is all the rage today in many vehicles. The 5.7 V-8 doesn't have it, nor do the Tundra's available 4-liter 270-horsepower V-6 and 4.6-liter 310-horsepower V-8. (The 4-liter gets 16 mpg. city, 20 highway with 2WD, while the 4.6 delivers 15 and 19 with 4x2 and 14 and 18 with 4WD.) These engines also can use 87-octane (or higher) fuel.

A. We found that the cost benefits of adding direct injection to the Tundra aren't really there—that consumers aren't experiencing advertised fuel economy gains of direct injection in light trucks. We don't need turbocharged engines, either. We feel we should invest in things that customers can appreciate.