Ralph V. Gilles
Chrysler's youthful top designer Ralph V. Gilles keeps America's love affair with cars alive.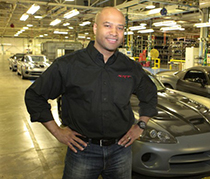 Ralph V. Gilles was named president and chief executive officer—SRT Brand and Motorsports for the Chrysler Group LLC in June 2011. He continues to lead the company's Product Design Office as senior vice president, a position he was named to in 2009 after being appointed vice president-design in 2008. Previously, he was president and chief executive officer of the Dodge brand. Born in New York, Gilles joined the former Chrysler Corp. in 1992 as a designer and moved up rapidly through the ranks. He has held a wide variety of design positions, using his formidable talent and extensive academic background in industrial design and business administration. Very active inside and outside Chrysler, Gilles serves, among other things, as the executive sponsor of the Chrysler African American Network, besides playing a leading role with The Chrysler Global Diversity Council. An avid car enthusiast, Gilles enjoys time at the track and has participated in the Car and Driver One Lap of America event and in the Targa Newfoundland Rally. He enjoys go-karting and watching Formula 1 auto racing. He's also been a judge at major car shows, such as the prestigious Pebble Beach event in California. Gilles has earned many academic and industry awards. Dan Jedlicka interviewed him at the 2012 Chicago Auto Show.

Q. It's a different world now, but how is today's muscle car market related to the fast and furious youth-oriented muscle car scene of the 1960s, which saw street racing with American cars on the Detroit area's Woodward Avenue?

A. That was really the "Wild West," wasn't it? Chrysler hasn't deserted muscle cars but our current ones (such as the Dodge Charger SRT8 and Challenger SRT8) get far better fuel economy and are much more practical than the old muscle cars. So it's not like a movie we've seen before.

Q. Are today's muscle cars as colorful as the old ones?

A. Yes, we give them such things as tastefully applied paint stripes, besides large, styled wheels and such. But there is more of a variety of colorful cars today that appeal to different age groups—not primarily to young drivers.

Q. Is the "Hemi" V-8 engine, which Chrysler made widely popular, still important to Chrysler? I recall it powered the first mass-produced 300-horsepower car, the 1955 Chrysler C-300.

A. It's still very important to us. But our current Hemi V-8s are a lot more sophisticated, with such features as a cylinder cut-off when cruising at highway speeds to deliver better fuel economy. And you can get a Dodge Challenger with a 305-horsepower V-6 if you don't want or need a more-powerful Hemi V-8.

Q. When I was in school in the 1950s and 1960s, when personal computers and iPhones didn't exist, far more teens were crazy about cars than they seem to be today. I've read that many younger folks would rather have the latest electronic gadget than a driver's license, or even a car. Also, that the number of teenage drivers is falling and more 20-somethings aren't sold on wanting a car. Does that concern you?

A. Some younger folks aren't as enamored of cars as they once were, but their interest in cars (or trucks) will come later for them than it once did. I grew up later than you did, and most cars of my youth were dull and not very attractive to younger people. Many consequently didn't become interested in them.

Q. Have you found young people interested in, say, classic or collectible cars, besides modern ones?

A. I've got an 18-year-old neighbor who is very interested in older cars. He thinks they're cool. And he isn't the only one. I even got an e-mail from a 12-year-old interested in Chrysler models.

Q. Chrysler builds a variety of fast, sexy vehicles, but many would seem to appeal mostly to males.

A. Of course, we build lots of minivans that women find very practical. Among other Chrysler models, women find the (stylish) Chrysler 200 sedan and (sporty) convertible appealing.

Q. Many automakers, including Chrysler, are designing very slick cars. Many four-door models even strongly resemble sportier two-door models because of sloping rooflines and such.

A. Still, I don't think two-door models are dead.

Q. What's important besides things such as design, horsepower and fuel economy?

A. Quality is a top priority with us and is a real battleground among automakers. Improved quality is one of the reasons Chrysler is dong much better. It always had decent styling and engineering, but quality wasn't what it should have been.

Q. What about the new, limited-production Chrysler Mopar 12 300. It's all black with blue pinstripes, Hemi V-8, a rear differential that provides faster acceleration, a stiffer suspension, high-performance brakes and black forged aluminum wheels—besides a monotone black interior accented with Mopar blue stitching on leather seats.

A. There's a big market for cars with custom features like those in the Mopar 12 300. But we're not chasing volume with such a car. While rather expensive, this 300 model will appeal to many car enthusiasts.

Q. Is there a constant need for new models?

A. Yes, you must keep car buyers excited. We can never stop developing and improving them.

Q. Is the auto/truck aftermarket still booming?

A. It's huge. People like to personalize vehicles. Many dress them up with aftermarket equipment. The fairly recent Specialty Equipment Market Association show had great attendance.

Q. Some industry critics said large pickup trucks were dead, but many such trucks now are being sold.

A. Pickups fulfill a variety of needs. They're bought because they're needed for commercial reasons, while others like their passenger space and use them as cars. Some just like the way they look. People love their trucks.

Q. I hear a new Dodger Viper sports car is coming.

A. That's correct.

Q. Will Chrysler become more involved with racing, which helped it sell lots of cars because it was so successful on the track.

A. Racing is still important to us. Many remember our NASCAR victories, but we're also getting involved with road racing.