Owen Peacock
The national manager of marketing and communications for Toyota's Scion division tells about its moves to expand sales and attract new buyers.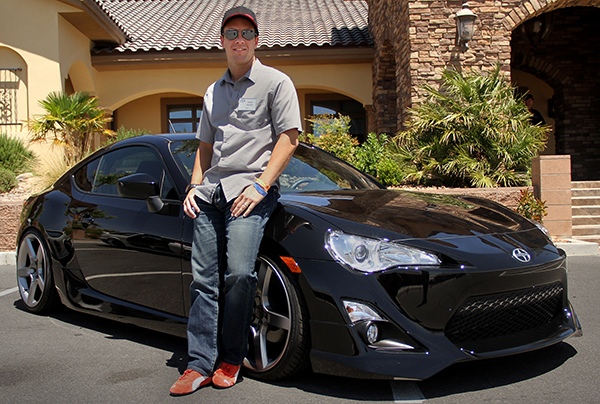 Owen Peacock is the national marketing and communications manager for Toyota's Scion operation. He is responsible for marketing and communications programs for Scion, a line of vehicles from Toyota Motor Sales (TMS) U.S.A. Inc. Aimed at younger buyers, Scion is the first new brand from Toyota since the debut of Lexus in 1989. It was unveiled by TMS in March, 2002, and its vehicles are aimed at a new generation of consumers who Toyota says "seek the latest trends in style and innovation." Peacock began his career with TMS in 1998 and held a variety of operations and marketing positions within Toyota and Scion before moving to the national Scion office in 2007. From that year to 2010, he served as Scion national field operations manager before moving to the marketing department. Peacock earned his bachelor's degree in automotive technology and technical sales from Weber State University. Dan Jedlicka interviewed Peacock during the media preview of the new, early 2013 Scion FR-S sports car in Las Vegas.

Q. What makes the Scion FR-S different from other sports cars?

A. It's affordable, sophisticated, fun-to-drive and delivers good fuel economy. It also has a large number of dealers and service outlets. There hasn't been any new, affordable rear-wheel-drive sports cars such as the FR-S s for a long time. It brings fun back to Toyota and to the entire industry. It's a "halo" car for the Scion brand.

Q. I hear that the FR-S was developed with Subaru, which is offering its own version of the car, called the BRZ.


A. Toyota partnered with Subaru to develop the FR-S, but Toyota designed the exterior and interior of its car. And the FR-S has such things as Toyota's direct injection cylinder head design incorporated into Subaru's engine, which has horizontally opposed pistons. The engine design helps allow a low center of gravity for really sharp sports-car handling.

Q. Although the light FR-S has 200 horsepower and is pretty quick, it isn't designed for the fastest 0-60 mph times in its class, is it?

A. That's correct. The FR-S isn't just a "straight-line" car. It's fun to drive on winding roads. It calls for driver involvement and, although exceptionally engineered, doesn't use lots of electronics to largely "drive itself."

Q. How many FR-S models do you expect to sell?

A. The FR-S just went on sale this spring, so we expect to sell 10,000 this year and 20,000 in its first full year in 2013.

Q. Isn't it true that today's younger car buyers aren't as interested in getting their first vehicle as they once were?

A. True. A car once allowed younger buyers to most easily see each other. Now, many would rather spend money on electronic items, such as cell phones, to hook up with friends.

Q. I hear that the many younger people that Scion vehicles initially attracted have become older and thus that your average buyer age has gone up.

A. Tight credit hurt sales among younger folks who wanted a Scion. But our average buyer age still is one of the industry's lowest. We still expect many young buyers, with older ones, who perhaps bought a Scion when younger as their only car, using the FR-S as a second car. Whatever—it's a pure sports car that can be used as a daily driver.

Q. I notice that the FR-S doesn't come with lots of option packages.

A. We're not offering option packages because many contain items that car buyers don't want just to get an item, or items, they do want. However, many Scion buyers like to "personalize" their vehicle, so we offer such individual items as a rear spoiler, larger wheels, lowering springs and an upgraded sound system. Some of these items will be post-introduction extras.

Q. You say the FR-S will have "Pure Pricing." Yet, car dealers are independent businessmen and can't be told what to charge.

A. We just mean a dealer must sell the car at the price he advertises, with no under-the-table money asked by the dealer so a person willing to pay extra can't get the car sooner than others wanting it for the advertised price.

Q. Will improvements be made to the FR-S as time passes?

A. Special editions and performance accessories may be added to keep the car fresh.