Mark Templin
Lexus boss Mark Templin tells about the new, sportier direction of Lexus cars, including the redesigned 2013 GS sedan.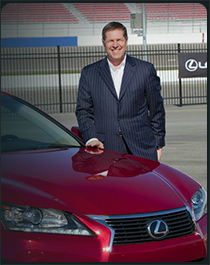 Mark Templin intends to help give Lexus a sportier image. Templin is group vice president and general manager of Lexus, the luxury division of Toyota Motor Sales USA. He is responsible (take a deep breath) for all aspects of Lexus auto operations, including sales and marketing, retail development, customer satisfaction and product planning. He also is responsible for coordinating sales activities, dealer relations, parts and service operations and the marketing operations of four regional offices around the country. Before his current position, Templin was vice president of Scion, responsible for activities of that youth-oriented Toyota division. He has held various positions at Toyota Motor Sales since joining it in 1990. Templin previously held positions at Oldsmoble. Dan Jedlicka interviewed Templin at the media preview of the new 2013 Lexus GS in Las Vegas.

Q. What is a major reason for developing the new Lexus GS sedan? Is it because the image of Lexus needs perking up?

A. Lexus needs a sportier image, and the GS will help provide one. It will compete with such cars as the BMW 5 Series, Audi A6 and Mercedes-Benz E-Class sedans.

Q. An increasing number of luxury car buyers in America seem to want sportier versions of luxury models. Do you expect that your Japanese rivals and other Asian competitors will introduce sportier luxury cars.

A. Yes.

Q. When does the GS go on sale?

A. The regular gas-engine GS350 model goes on sale in February, 2012, as a 2013 model. Also, a gas-electric GS450h hybrid model hits the market in the spring of 2012. The GS350 will be offered with rear- or all-wheel drive, while the hybrid will come only with rear-drive.

Q. What will the new GS cost?

A. We haven't announced prices yet, but the car will be a great value.

Q. One criticism of the new GS is that there's no V-8 version when rivals offer a V-8.

A. The 306-horsepower in the GS350 provides strong acceleration (0-60 mph in 5.7 seconds), and the GS450h, which has a V-6 and electric motor, is rated at 338 horsepower and does 0-60 mph in 5.6 seconds. We've found that the GS segment of the market would rather have all-wheel drive or a hybrid model than a V-8. But we didn't want the GS to just be fast. We wanted a "well-balanced" car that's fun to drive in all respects and still be comfortable on long trips.

Q. Will there be engine options down the road for the GS?

A. No. Actually, most Lexus owners rarely look under the hood or service their own cars.. They have service work done by professionals.

Q. Another criticism is that the GS has a six-speed automatic transmission, when luxury rivals are going to seven- and eight-speed automatics.

A. Lexus actually has a great eight-speed automatic. But our engineers determined that a six-speed transmission works best in the GS. The problem with (some) automatics that have more than six speeds is that they "hunt" (upshift and downshift between gears) a lot when, say climbing hills while the car tries to decide which gear to use.

Q. The GS350 with the optional Sport package will offer a special handling system with rear steering. Other automakers have offered four-wheel steering, but few consumers were interested in it.

A. That was years ago. Our sophisticated system can independently manage both front and rear wheel steering angles to help improve turn-in response, rear grip, vehicle control and overall agility when cornering.

Q. I assume that most Lexus all-wheel-drive models are sold in the northern snow-belt area of the country.

A. Many are, but buyers in warm-weather areas have found that all-wheel drive enhances handling on dry roads.

Q. Some luxury car buyers complain that their cars are too complicated, having controls they need a thick owner's manual to figure out how to use.

A. Luxury cars buyers want sophisticated features, but Lexus is making controls of its vehicles easier to use.

Q. How do you feel about electric cars?

A. A new generation of batteries is needed.