Laura J. Soave
Fiat North American Brand Head Laura J. Soave on reintroducing Italy's Fiat to America with cute 500 model.
Soave left the company late in 2011 to pursue other interests.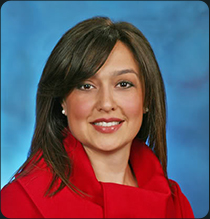 As head of Italy's Fiat brand for North American, Laura J. Soave leads the challenging reintroduction of Fiat's brand in North America, beginning with the cute Fiat 500 coupe.—an early 2012 model. Soave joined Fiat from Volkswagen of America and has profit and loss responsibility for the Fiat product portfolio in North America. An Italian American who grew up in Michigan, Soave has her hands full, integrating Fiat products into the marketing, sales, service and dealer network organizations. Soave has worked at Ford Motor Co., where she managed the repositioning of the Ford, Lincoln and Mercury brands. She holds a Master of Business Administration in marketing from the University of Detroit (2001) and a Bachelor of Science degree in business administration from Walsh College (1995). Dan Jedlicka interviewed Soave during a media introduction of the 500 in Chicago.

Q. What is special about the 500?

A. It's a very price-competitive European car that is definitely Italian, which means it's fun to drive. It's also practical, able to seat four adults in its stylish interior and carry much cargo. There are three differently equipped versions costing $15,500, $17,500 and $19,500, without a $500 freight charge.

Q. What cars are the 500's main rivals?

A. Major ones are the Mini Cooper and Toyota Yaris.

Q. The 500 won't initially be sold in all states. How many dealers will Fiat have and if something goes wrong far from one, can a Chrysler dealer fix the car (because Fiat controls Chrysler).

A. We'll have 130 Fiat dealers by year's end in 37 states. The 500 must be fixed by a Fiat dealer because it requires special training and tools to work on. But we're encouraging Fiat dealers to have special relationships with 500 buyers. If the car has trouble, arrangements can be made to get it to a Fiat dealer. And there is trip-interruption insurance.

Q. What are the car's major markets?

A. Los Angeles, New York and Miami, although we feel plenty will be sold in Chicago.

Q. I hear some consider the 500 a "fashion item" in Europe, just as the Mini Cooper was in England in the 1960s. The 500 is cute, but does it have a track record?

A. More than 4 million Fiat Cinquecentos (500 in Italian) were made from 1957 to 1975. The modern-generation 500, which looks much like the original Cinquecento but is larger, was launched in 2007. More than 500,000 have been sold in more than 80 countries. We expect an expanding small-car market in America.

Q. Are there changes to the European 500 for American motortists?

A. The North American 500 is quieter and rides softer. Lots of options will let buyers individualize their 500s.

Q. The base model is called the "Pop." The mid-range version is named the "Sport." And the top one is the "Lounge." Do those carefree names come from Italy or America and which is expected to be the most popular model.?

A. The names are from Italy. We expect the Sport to be most popular because it doesn't cost much more than the Pop. While the Pop is nicely equipped, with such items as air conditioning, the Sport has more convenience features and is more fun to drive with its sport suspension and wider tires on larger (16-inch) aluminum wheels. It also has distinctively styled front and rear fascias, bodyside sill cladding and a rear spoiler.. The Lounge has lots of premium amenities and comes only with the automatic transmission.

Q. Will there be other upcoming versions of the 500?

A. Yes, such as a convertible. We plan to introduce the 500 slowly, though. The introduction won't be one big bang—and then not much promotion.

Q. The 500 is even smaller than a Mini Cooper. Will that hurt sales here?

A. The roomy 500 has lots of safety equipment. For instance, there are seven air bags, anti-lock brakes and electronic stability control. Its size is ideal for congested urban driving and parking. Shown at the media preview here is a 500 that was hit at 40 during a left front-end collision. As you can see, the air bags went off and the driver area wasn't damaged.

Q. What about performance?

A. The 500 has a 1.4-liter sophisticated four-cylinder engine that produces 101 horsepower. That may not sound like a lot, but the 500 isn't overly heavy at 2,363 to to 2,434 pounds, so overall performance is lively.

Q. And fuel economy?

A. Estimated economy with the five-speed manual transmission is 38 miles per gallon on highways and 30 in the city and 34 and 27 with a six-speed automatic transmission.

Q. What transmission will be more popular?

A. We figure 70-80 percent of Americans will order the automatic.

Q. Who will buy it?

A. It should appeal to all age groups. Buyers will include those who want to enhance their green credentials and those who are passionate about cars and driving. They'll range from young trend setters to aging baby boomers who don't feel old and want a practical, fuel-thrifty car that's fun to drive.

Q Fiat sold cars in America for decades, but left the United States in the early 1980s with a reputation for having quality problems. Will that reputation haunt the new Fiat 500, or is it largely forgotten?

A. Some remember, but many Fiat owners loved their cars,. And Fiat wasn't the only auto back then with quality problems. It's a different world. Fiat now has modern, sophisticated car-building equipment. The 500 has been tested for more than 4 million miles.

Q. Hyundai once had a poor quality reputation in America, but improved quality backed by a long warranty helped it make a strong comeback. Does the 500 have a solid warranty?

A. It has a four-year/50,000-mile bumper-to-bumper warranty, and routine maintenance is free for three years or 36,000 miles.