Christine Barman
Chrysler Group LLC executive Christine Barman is helping put sexy rear-wheel-drive American cars more in style again.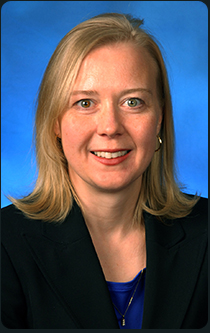 Christine Barman is the Chrysler Group LLC's Vehicle Line Executive for "E-Segment Vehicles," which include the Chrysler 300 and Dodge Charger and Challenger. Many domestic cars have front-wheel drive, but those Chrysler Group models have the traditional American rear-wheel-drive layout, with several offered with all-wheel drive. Barman has responsibility for current and future planning, engineering, development and launch management of the 300, Charger and Challenger. Since joining the former Chrysler Corp. in 1994, Barman has put to use her academic and professional background in brake system engineering, advance chassis control integration and safety systems, holding many different positions in the company. Barman was recognized by Diversity MBA Magazine as a "Top 100 Under 50" executive in 2008 and is a member of the Chrysler Women's Forum Board of Directors. The personable Barman holds a Master of Business Administration degree from the Univerity of Michigan, a Master of Science degree in mechanical engineering from Oakland University and a Bachelor of Science degree in mechanical engineering from Purdue University. Dan Jedlicka interviewed Barman during a Chrysler Group LLC 2012 vehicle preview in the Chicago area.

Q. While revered European cars from Ferrari to BMW and Mercedes long have had rear-wheel drive, with a few offering all-wheel drive, most American cars switched from rear-drive to front-drive decades ago. So why do the Chrysler 300 and Dodge Charger and Challenger come with rear-drive, with the 300 and Charger also offering all-wheel drive?

A. Some people like the fact that rear-wheel drive gives a car better balance and handling because it has better front-rear weight distribution. Also, many older drivers grew up with large rear-drive autos and like their feel. We consequently don't want to give up on the rear-drive platform.

Q. Why don't buyers of your rear-drive autos just buy a rear-drive or all-wheel-drive SUV?

A. Because many want a car. They don't want an SUV's high center of gravity, which can make them handle less adroitly, and they don't like the need to step up to get into an SUV.

Q. Doesn't front-drive provide more stability under some circumstances?

A. Rear-drive autos, including the 300, Charger and Challenger, are offered with stability and traction control systems that give them good stability under trying road conditions. Also, the 300 and Charger are offered with all-wheel drive for even more traction.

Q. Wasn't weight reduction, and thus better fuel economy, one reason to go to front-drive in downsized cars?

A. Autos now use lighter, stronger materials to trim weight. Aerodynamics also are much better. For instance, the 300 has a full underbody component that makes it more aerodynamic for less wind resistance. Only race cars once had such a feature. Brake calipers are designed to have no "drag," which cuts down on fuel economy. And the 300, Charger and Challenger have a new steering system that doesn't hurt engine efficiency, as did the old system.

Q. What about advances in tire technology?

A. Tires have designs that provide better gas mileage. And we can "tune" suspensions with modern tires to allow cars to have sharper handling.

Q. There's lots of publicity about electric cars. But what about autos—the majority—that are powered by internal combustion engines? I've heard such engines can be made far more efficient to deliver more power, better fuel economy and lower emissions.

A. Internal combustion engines have become considerably more efficient, thanks to such things as as direct fuel injection, components with less friction, turbocharging, cylinder deactivation when cruising at highway speeds—things like that. We have a 292-horsepower V-6 that provides the same horsepower as some old V-8s. And it delivers an estimated 31 mpg on highways in the 300 and Charger with Chrysler's new eight-speed automatic transmission.

Q. Is Chrysler's famous "Hemi" V-8 still in demand?

A. That powerful, iconic engine is still popular and has fuel-saving features.

Q. Do modern transmissions also help? It used to be that domestic cars only had a three-speed automatic transmission, but you mentioned that Chrysler has a new eight-speed automatic.

A. The 2012 Chrysler 300 and Charger have the new eight-speed automatic. It improves performance and fuel economy and allows more-economical gearing. The very sporty Challenger has a five-speed automatic with a manual-shift feature, or you can get it with a six-speed manual transmission.

Q. The Chevrolet Camaro, Ford Mustang and Challenger all are "modern retro" models but the Camaro and Mustang outsell the Challenger.

A. The Challenger is different from the Camaro and Mustang in that it can comfortably seat four adults. The Camaro and Mustang have a tight back seat and just can't do that.

Q. The Charger has particularly aggressive styling, in keeping with Dodge's high-performance image. So I assume it's mostly bought by males.

A. Actually, a high percentage of women buy a Charger. The car is an extension of the personality of its owner.

Q. What about the 300?

A. It attracts mostly older buyers than the Charger. But we have a new-for-2012 300S model to attract younger folks. It has a performance-tuned suspension, "sport mode" driving setting and more of a (European) look with less chrome and more body color parts. Its interior items include paddle shifters for its automatic transmission and seats with more bolstering for better support during more-spirited driving.

Q. Are advanced sound systems still quite popular?

A. They sure are.