C.J. O'Donnell
Lincoln group marketing manager C.J. O'Donnell plans to introduce that automaker to a larger crowd with younger, more affluent folks—partly with a highly personalized approach.
O'Donnell was reassigned in September, 2012, to market Ford's electrified vehicles.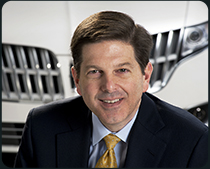 As the new group marketing manager for Lincoln, C.J. O'Donnell has the job of enhancing and expanding the Lincoln brand profile. O'Donnell is well equipped to do that task with his diverse experience in the international auto world. His professional experience encompasses sales, marketing and product development roles at Jaguar, Ford, Mazda, Lincoln and Mercury. Most recently, O'Donnell was global marketing manager for Jaguar Cars Ltd. in the United Kingdom from 2006 until early 2010. With his global brand and product marketing teams, he raised Jaguar's profile to new levels and achieved improved sales and financial performance. A strong force behind Jaguar's worldwide motorsports presence, O'Donnell has had several years of racing experience with the Sport Car Club of America. He received an MBA in marketing from Columbia University and a bachelor's degree in economics from Villanova Univrsity. He's also a graduate of the Ford Marketing Leadership program. He began his Ford Motor career in 1987 as a zone manager based in Mount Laurel, New Jersey. Dan Jedlicka interviewed O'Donnell at the 2011 New York International Auto Show.

Q. Among American automakers, Ford Motor's Lincoln traditionally has been No. 2 in sales behind Cadillac, although many Lincoln models have been much admired.

A. The exclusive, limited-production ($9,695) 1956 Mark II was the most expensive American car. We have no plans now to build a modern version of such a car. But we'll continue to make vehicles that build on Lincoln's luxury legacy.

Q. Now that Cadillac competes in racing, are there plans to revive Lincoln race competition to help promote its cars? Lincoln had a spectacular racing record. It took the top five places in the International Standard Class of the grueling Carrera Panamericana race in Mexico in 1952, the top four places in 1953 and first and second spots in 1954. It even beat Ferraris.

A. I doubt that many remember those Lincoln racing successes. I like racing a lot, but it's not in our current plans for Lincoln. Instead, we're concentrating on giving our vehicles better driving dynamics, with improved steering, braking, handling and powertrains to make them safer and more fun to drive.

Q. Sounds as if Lincoln is shooting for a younger crowd.

A. We'd like to see younger, more affluent buyers. Our median buyer age has been approaching 60. But we're also after more "young at heart" buyers, regardless of their age. Our MKX crossover vehicle is drawing a significant number of younger buyers.

Q. Do you hope to attract more buyers partly with unique styling?

A. For one thing, our grilles are unique. The grille is a vehicle's "face" and helps it stand out.

Q. Many know that Lincolns are from Ford Motor Co., which is not considered a luxury market brand. Does that hinder Lincoln?

A. I doubt it. For one thing, Ford Motor has an excellent reputation.

Q. Do independent "third party" surveys and rankings that measure customer satisfaction in various areas help sales?

A. Such surveys and rankings, like the ones from J.D. Power, are very important to automakers.

Q. Is Lincoln doing anything special with customers to enhance its image?

A. It's staying in close contact with buyers. When people buy a car, they typically want to drive it home immediately. But our salespeople are trained to make sure buyers understand key vehicle features before leaving a dealership. Then dealership personnel follow up by visiting customers at their home or place of business and make sure they understand features that may have been overlooked.

Q. Do such features include the sophisticated electronic features increasingly put in luxury vehicles?

A. Yes, it's a question of making customers familiar with how things work, and that takes extra time and work. We feel it's worth it.

Q. Some people, including those in Washington, are concerned that advanced electronics are making cars too complicated to safely operate. How does Lincoln feel about that?

A. Advanced technology should make a vehicle easier to drive and enhance its safety, not confuse its owner. For example, touch screens on dashboards and voice recognition systems have definite safety aspects. Lincoln feels it must stay ahead in the technology area in the luxury car market.

Q. Like other automakers, Lincoln has entered the gas/electric hybrid vehicle field. How is that going for Lincoln?

A. Very well. A high percentage of our MKZ sedan buyers are ordering the new hybrid version of that car.

Q. Gasoline prices are rising at an alarming rate again, topping $4 per gallon for just regular-grade fuel in many areas. Some automakers, including Mercedes-Benz, thus plan to introduce small luxury cars in America. What about Lincoln?

A. If gasoline prices stay high, some consumers will eventually move from large to mid-size vehicles. And some mid-size car owners will move to smaller models. All I can say is that Lincoln is watching the market.